FrostGrip - Cryogenic Labeling Solutions
Published: 2020-12-16

Chances are, your laboratory has been using cryogenic labels for a long time. Cryogenic labels use a special adhesive that will stay adhered to samples when stored in temperatures below 20°. These labels, however, need to be adhered to your vial, tube or other container before the freezing process.
Have you had ever issues with your labels not sticking to a frozen vial or containers in the laboratory? Thawing samples before labeling is time consuming and can compromise the integrity of the sample.
Nev's Ink FrostGrip Cryo Labels are the perfect solution for you if you are having these issues! These cryo labels can stick to already frozen vials and containers – no need to wait for thawing! Typical cryogenic labels will not adhere to an already frozen vial or tube.
FrostGrip Cryo Labels will stick to already frozen vials, microtubes, microplates, glass tubes, freezer boxes, plastic bags and more (as low as -80°C).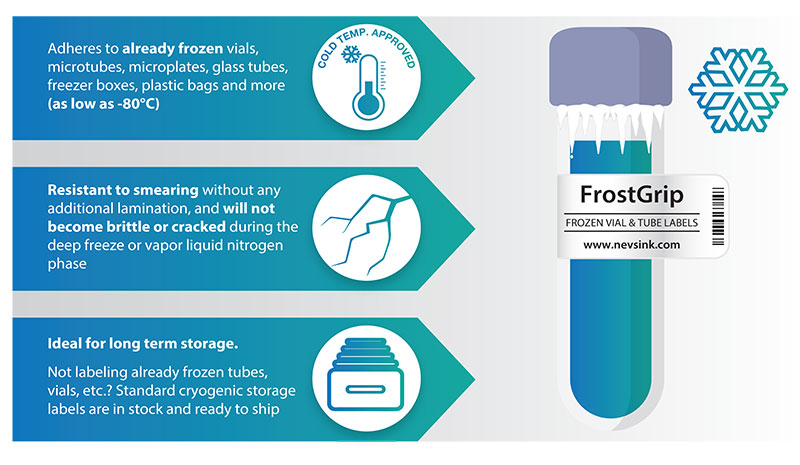 When you use FrostGrip Cryo Labels to store samples in deep freeze liquid nitrogen or vapor phase liquid nitrogen, they are guaranteed to stay in place. The cryogenic labels are resistant to smearing without any additional lamination, and also won't become brittle or cracked during the deep freeze liquid nitrogen or vapor phase liquid nitrogen phase.
Available in:

For more information on our FrostGrip Cryo Labels or how to order custom labels, give us a call at 1(800)638-7465 or click here to shop now. We will answer any questions you may have and assist you with the ordering process.